Storybooks - your fairytale in pictures:


Fantastic! if you're looking at this page it's probably because you are thinking about having a storybook. You won't regret it. It's a great way to preserve those precious memories and I specialise in putting images together that will make you laugh, cry, sigh, or say WOW!
Coffee-table style book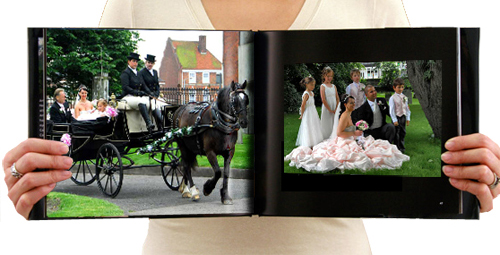 This gives you an idea of how big the book is.
Double page spread is a whopping 26" by 11" high
The Wedding
Before the wedding we will talk about what you like, locations etc and you can provide me with a 'shot list' for any special requirements. I then do lots of preparation for the storybook (computer stuff just to save time later). We agree what time to meet on the morning of the wedding - usually Brides like some photos of them getting ready, capturing some of the feelings on the big day. You might also like some photos of the Boys getting ready (depending on the locations - if we need to bring another photographer, that can be arranged). Then we get to the ceremony, photos after, the reception, the party, for as long as you need me. I'll probably be exhausted by the end of the evening but we'll have anywhere between 1000 and 1500 photos.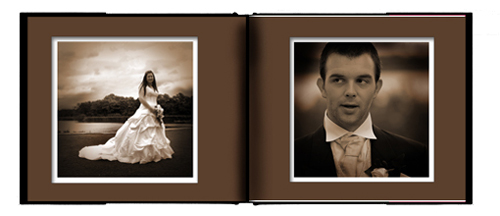 Sometimes a glance can be quite dramatic - especially if turned into Sepia or Black&White
All photos are taken in colour and can be changed into sepia/ Mono
The Book design
Next stage - I work really hard for about three days going through the photos, editing, cropping and putting a 'rough' together of your Story Book. Assuming a Saturday wedding, you usually get to see your book online a few days later, plus the photo gallery of your wedding. You have a look and list any changes you want to make, plus putting more pages in or taking some out - it's up to you. You get a three chances to amend the book - after that I will have to charge something.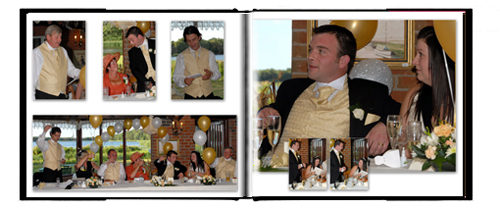 This double page spread captures the speaches
The Book
The book is, well, a proper book. You have a choice of full image wrap hard cover - probably the most popular choice, or you can have a 'dustcover' - the wrap-around loose cover you get on quality hardback books. Once you have approved the book design it goes into production, which depending on complexity and number of pages will normally take between 3 to 6 weeks. Usually it's about three weeks but it may be a little more. Remember, you can order more than one book, which is a popular gift for the parents.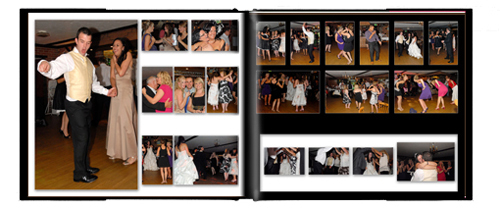 These images work well together to remember the party
Second book design?
Some couples like to have a smaller size book or a cut-down version to give to friends and relatives. We can discuss prices and requirements further if you are interested.
Click here for storybook examples...
---
Contact us for more info