Welcome, to the wedding photography service for your fairytale wedding.
So, where do you find a good wedding photographer without costing too much, who will do a good job and take some great photos, without a lot of fuss and without keeping everybody waiting for hours? You've already found the answer - Pumpkin Photography. When we set up the service, we did loads of research to find albums that looked good and were great value. We knew that we could design good-looking storybooks and we were already used to dealing with people quietly and efficiently, which dealt with the biggest single complaint about photographers...... "they took too long to take the pictures and took over the day". We promise to be efficient with time so that we get great photos with minimum standing around time.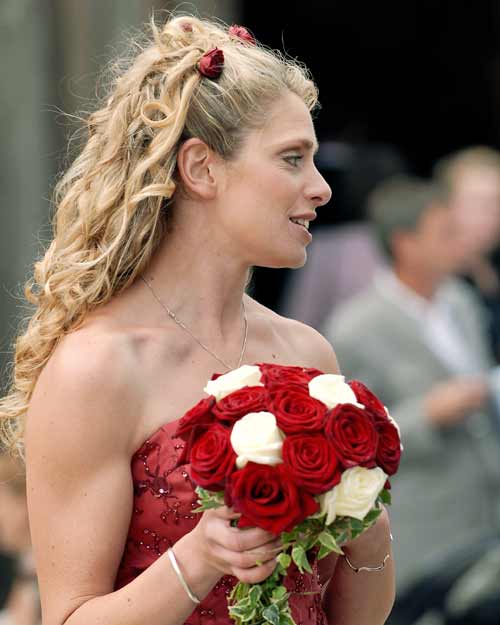 Another specialty is photo manipulation. We can enhance a photo in many ways - make the colours vibrant; convert to sepia or black and white; pick out certain areas in colour; fade backgrounds in a portrait; or more complicated montages if required. After the wedding, the photos will be available to view online after approx 3 days. You let us know your absolute favorites, or just let us use our experience and judgement to pick the right photos for a draft DVD and storybook. Again, view these online and let us know any changes you wish to make. Completed Albums and DVD are usually ready for delivery approx two to three weeks after approval of drafts.
Pumpkin Photography is a Norfolk based service specialising in wedding photography. I'm an experienced wedding photographer and all the photos on this site were taken by me. I would be delighted if you would take a look at the gallery to explore some of my work. We have a photography package that combines style with value. If you are looking for a wedding photographer in Norfolk, Suffolk, Cambridgeshire, Lincolnshire and Bedfordshire, or even further afield, give me a ring or email.
For a wedding photographer in a Norfolk location - we don't charge traveling expenses.
For a wedding photographer in Suffolk, Cambridgeshire, Lincolnshire and Bedfordshire, or even further afield, we may ask for a contribution to expenses. Please call to discuss.
If you are new to the idea of wedding 'storybook' albums, then please take a look at this page to explain what they are all about. Pumpkin has great experience with design and we love to create a storybook that will tug your heartstrings, and not your purse strings.
Check-out the gallery pages for examples of our photography...
Some comments from recent couples.... more will be added later.
"Thank you so much. We loved the photos. I can't believe how they turned out. I look like someone out of a magazine!"Silvie and Brian - Norwich
"I spent a long time looking for a photographer. Most of them wanted to charge a lot more than you do. I couldn't afford to pay a thousand pounds, let alone the twelve hundred, fifteen hundred and up that many of them were asking - and some of photos they showed me weren't that great. So, we wanted to say a big thankyou, you did a great job and you should charge more - everybody else does! Anyway, we will definately recommend you to our friends" Emma and Jamie - Great Yarmouth
"I love the storybook. You really captured the spirit of the day" Samantha and David - Holt
"Thank you for doing our photos. We are really pleased with them and thank you also for being a calming influence when things were not going quite to plan" Annie and Tim - Norwich
"Sorry its taken so long to write and thank you for the wonderful wedding photos. We thought that you were brilliant on the day. You understood our complicated schedule and were always in the right place at the right time. We would be happy to give references to any future clients and we will definitely recommend you to anyone who needs a photographer ....... thanks for making our day so special" Jan and William - Wroxham
"We had a great wedding and looking through the storybook brings it all flooding back - like it was just yesterday." Victoria and Patrick - Norwich
---